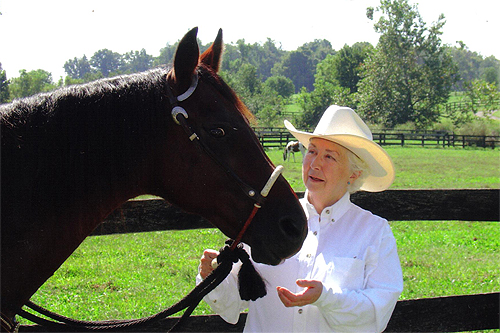 "I believe Gwen Reardon to be the best equine sculptor in America today. What makes her work so unique and outstanding is not only her great talent but also her background as a horsewoman and trainer."
Alex G. Campbell, Jr.
Chairman of the Board, Triangle Foundation

"I think it is very important that she is a horsewoman and really knows how to portray horses in her art."
Mrs. Henry E.I. du Pont
| | | | |
| --- | --- | --- | --- |
| | The daughter of a prominent trainer, Gwen became an accomplished equestrienne at an early age. As a horse farm manager and a professional trainer of some forty years, she has worked with many breeds; Arabians, Saddlebreds, Morgans, Quarter Horses and Thoroughbreds. Gwen Reardon's skillful interpretation of the individual spirit and personality of each horse that becomes the subject of her work is indeed the product of a lifetime of personal involvement. | | |



Studio of Gwen

The Studio of Gwen is conveniently located within minutes of the Kentucky Horse Park, Bluegrass Field, Keeneland and Fasig-Tipton and surrounded by many of the most prominent horse farms in the Bluegrass. The studio welcomes visitors by appointment or through Unbridled Horse Tours. Offering a unique opportunity for the public to observe the artist at work the studio will also offer private instruction as well as a gallery of sculpture, paintings, prints and posters. Individuals and groups are welcome to contact Gwen Reardon for appointments to tour the studio or information on instruction opportunities.
Links of Interest
University of Kentucky Hotels
Welcome to University of Kentucky Hotels, your online source to find
hotels near University of Kentucky
Lexington, Kentucky.
Downtown Lexington Hotels
Known as the horse capital of the world, Lexington, Kentucky is a fascinating, fun place to visit.
The Studio of Gwen invites you to visit this website often as products offered will change and additions will be made.
Gwen will also be updating current work, installations and instruction opportunities as they become available.
Your comments and requests are welcome.


Home | Biography/Contact | Life-Size Installations | Gallery | Shop Online
---
© 2009 & beyond Gwen Reardon dba Studio of Gwen. All rights reserved. Webmaster: RB Design Studio, LLC